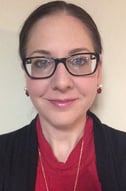 Christen Mueller promoted to Executive Director in Training (EDIT) in Affordable Housing Division.
In 2005, a former co-worker of Christen Mueller invited her to join Eskaton Lodge Granite Bay. Passionate about working with seniors, eight years flew by quickly for Christen. She began as a Resident Care Associate before moving up by completing the medication management training classes. Eventually Christen transfer to Eskaton Village Roseville for more experience. In 2016, 11 years after joining Eskaton, Christen was promoted as the EDIT in the affordable housing division. "I have been very lucky to work with people that wanted to see me succeed and helped me along the way," said Christen. The EDIT position felt like the right next step in her career. "I knew I could be successful at it," Christen continued, "It was everything I was waiting for: Lots of learning, training and responsibility. Eskaton has given me a career that I love and I will always be grateful."
Eskaton offers 1,000 apartments to qualifying low-income seniors in Northern California. Learn more about Eskaton's Affordable Housing.