Maybelle, a resident of Eskaton, was honored at her 104th birthday party with a perfect driving certificate presented by Sheriff John D'Agostini with El Dorado County.
We asked Maybelle some questions about her 104 years of life:

What is your greatest accomplishment? Maybelle answered not one single ticket or accident in her 90 years of driving. She says she was once stopped by police in Calgary, Canada, and given a citation for GOOD driving.
What advice do you give to remain youthful over 100 years old? Keep doing as much for yourself as long as you can. Maybelle lived on her own until she was 102 and a half years old.
What is your secret to logevity? She says her secret is living a healthy life and "being a farmer's daughter". She eats healthy, but has a sweet tooth for M&Ms. You just have to splurge sometimes.
How old will you live to be? Maybelle answered 107 years old. And that's only three years away. Maybelle turned 104 at Eskaton Village Placerville. She's a California native and raised her family mostly in the Inglewood and La Habra area. She also spent some time living in Canada and Texas before returning to California. Maybelle enjoys traveling, seeing new places and meeting new people.
Maybelle was born in Lynwood, California, in 1912. The youngest of 5 children, she grew up on a farm helping her mother with the household chores and milking the cows. Her favorite toy was a tricycle that she remembers sharing with her sister. She liked hide-n-seek, jumping rope and to playing with their two dogs. Dinners were big on the farm, especially Sunday dinners after church. For a special treat they would make homemade ice cream.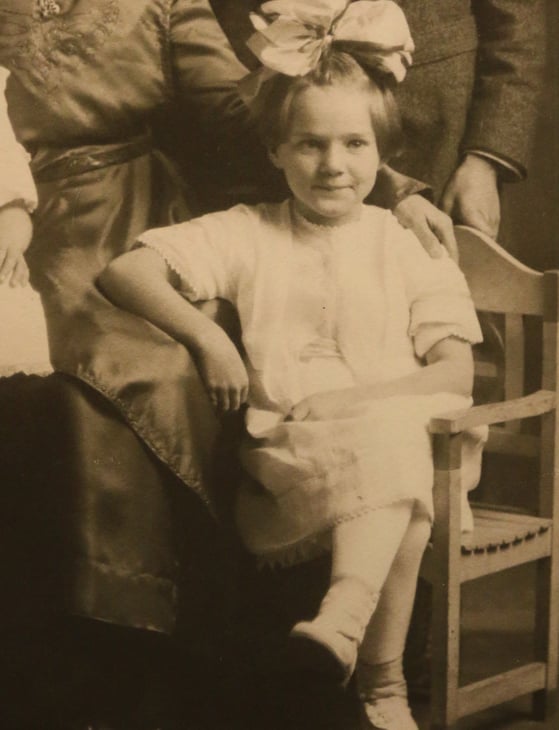 When she was 4 years old, they had a donkey that pulled a wagon. If they could get the donkey down their long driveway, he would run 3 miles to school. The children would ride on his back or in the wagon. At school, the kids fed the donkey sandwiches. Maybelle mostly remembers walking the 3 miles to a two room school house where her Aunt May was her teacher. Maybelle's favorite subject was arithmetic. Spelling was her worst subject. Her favorite song is"God Bless America".

Maybelle met her future husband, Arthur, on a blind date. Her sister was supposed to go with him that night, but instead went with someone else. Maybelle and Arthur married on November 10th, 1934, in the Methodist Church in Lynwood, California. They raised two children, Marlene and Bill. Maybelle was a homemaker and Arthur worked for the General Petroleum Refinery (which is now Mobile Oil). Arthur's work took them to live in Canada and Texas. When he retired they traveled around the country for three years in their RV and1983 they moved to Lockeford where Maybelle lived until she moved to Eskaton. Maybelle and her husband, Arthur, were married for 60 years before he passed away.

Maybelle also loved to participate in walking competitions in Lodi, California, where she took first place seven times and 2nd place once. She states that her greatest accomplishment in life is her children and she is most proud of the way they turned out.
Maybelle's entire family joined the celebration.
Maybelle's great-grandson Daniel drove up with his family from Southern California.
Gold Rush Quartet sang for Maybelle and the residents at Eskaton Village Placerville. Kent Miller (standing to the left of Maybelle) spoke about how much he enjoys coming back to the community where his mother Mary Kay lived for many years.