by Christian Aninoiu, Victory High School Advanced Placement English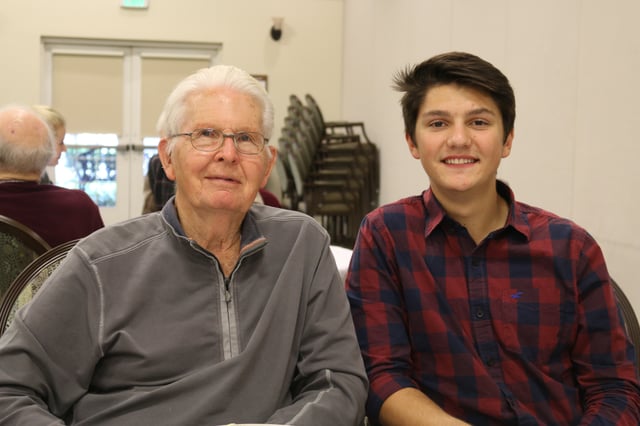 Ron, an 82 year old retired deputy chief, has had a life filled with enough adventure to write a book. He now resides at Eskaton in Carmichael, California, with his wife Diane and a little Shih Tzu named Dinks. They have been married happily for 58 years. In his time, Ron was a paperboy during World War II, a bank teller for Wells Fargo, a Deputy Chief in law enforcement, a photographer, and many more things that would take many more pages to adequately do justice to the story of his life.
As a boy, Ron grew up in Turlock, California. Turlock is a small town near Central California, where, as Ron described it, "everybody knew everybody." He was a paperboy in his youth, and even gave out papers at the end of the second World War, passing out the news of Allied victory. After high school Ron got a job at a bank, Wells Fargo to be exact. After 10 years of working there, he saw the old men behind the counters counting out money and came to a realization. "I don't want to do this for the rest of my life" he said. So Ron decided to pursue education and graduated from Sac State with a degree in vocational education and became an instructor at the highway patrol academy. This is where Ron decided to pursue law enforcement for a career. He worked his way up through the ranks of the police force, until he got promoted to the highest civil service rank in law enforcement, Deputy Chief. Ron is disappointed by the negative stigma that surrounds police officers, and wishes that parents rear their young to not fear police men, but to teach them that the police are there to guide you and protect them.
Ron retired at the age of 60, and he was ready to go into retirement. He had lived a very exciting life. Now, Ron's hobbies include photography, creating stained glass windows, attending church with his wife, volunteering to children's Bible studies, and donating to charities. Due to being head of the tech department at one point while working for the law enforcement, Ron has more experience with technology and computers than most people his age. He does the digital photography for his church and knows how to work his way around technology and is truly fascinated by the level that technology has reached. If there was any advice that Ron has for the younger generation is to "stick to education and keep that as your priority, because if you don't, you will most likely regret it in the future, and to not abandon your faith in Christ, and to be honest in all of your doings."
Learn more about living in Eskaton Village Carmichael.