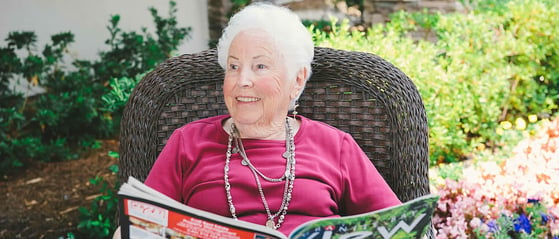 Has your parent's forgetfulness gone beyond the point of just misplacing keys or reading glasses? Are they now missing appointments or even forgetting that they already talked to you today?
These are signs that your parent may need daily care assistance to ensure his or her health, safety and well-being.
Additional signs that it may be time to consider assisted living:
Loss of Vision: Vision can deteriorate to the point where reading and getting around the home is difficult. Your parent may be at risk for incorrectly taking medications, falling due to not seeing objects properly, and impaired driving.
Poor Balance: Imbalance also puts them at risk for falls. Does your parent's current home have stairs? Does the bathroom have proper grab bars? Is anyone nearby if he or she would fall?
Forgetfulness: Simple matters, such as remembering to turn off the stove, can become serious safety hazards.
Fatigue: How much home maintenance and housekeeping needs done? This, along with meal preparation and personal care, can become very overwhelming.
Loneliness: Is your parent leaving the home less often? When interaction with others decreases, your parent may be at risk for mental health issues such as depression.
If your loved one is showing signs that living alone is a strain, it may be time for a talk. Approach the subject of where to live and future care in a neutral way. Visit communities together to find the perfect fit for your parent. The best decision will be a joint decision.
Contact Eskaton for support and additional information on assisted living options. Our Lodge communities offer a full spectrum of convenient services, including dining, recreation and cultural pursuits to help ensure an engaging senior lifestyle. Call us today at 888-684-6554.