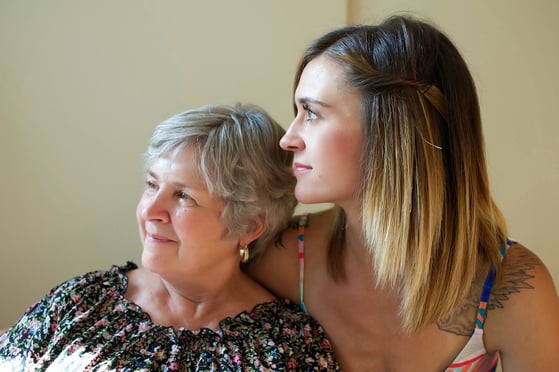 Has a visit to your parent's home left you feeling a bit uneasy? Worried? Maybe even a little scared to leave them home alone?
Whether you noticed medication not being taken or bruises from a recent fall in the bathroom, these little clues and that gut feeling lend a lot of insight into knowing whether your parent may need additional care.
Many children don't want to admit it may be time to consider other living options or in-home care. However, there are specific signs you should begin to watch for to ensure the safety and health of your parent.
Signs Your Loved One May Need Care Assistance
Stacks of unopened personal mail and bills, or mail piling up in the mailbox
Signs of impaired driving: multiple dents or scrapes on bumpers or along the edges of the vehicle, as well as multiple warning lights on the dashboard for service needs
Expired foods in the refrigerator, freezer and pantry, or lack of healthy foods on hand
Excessive clutter and tripping hazards, such as piles of magazines, extension cords or uncollected newspapers on the front porch
Home maintenance needs such as ceiling stains, worn-out stair railings, broken locks, doorbells or leaky faucets
Pets in need of routine care, such as grooming issues, full litter boxes or dirty food bowls
If you've noticed these signs or similar issues and aren't sure how to begin the conversation with your loved one, talk to a professional in the senior living or senior care industry. Eskaton's Live Well at Home program offers consultations with a certified geriatric care manager, who can provide expert insights in situations just like this.
Whether it's an initial consultation or providing an assessment to help your parent improve his or her living arrangements, a third party expert may help relieve some tension and restore confidence for everyone involved.
Is it time to consider an alternative living option?
Take into consideration that unopened mail and not completing other daily tasks can be a sign it's time to consider an alternative living option. If you are looking for support from professional caregivers, an Eskaton Lodge may be the right choice, as it provides care and conveniences in a community setting.
Making this decision can be complex. While you worry about your loved one's safety and well-being, your parent may be worrying about loss of control and independence. The best scenario is a joint decision. Visit communities together to determine the type of community that best suits your parent's needs.
Contact Eskaton at 888-684-6554 to learn more about our communities and let us help you navigate this journey.