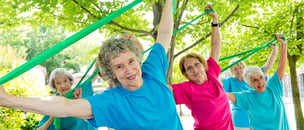 Many seniors find it challenging to stay physically fit. Keeping up on a regular exercise routine can be struggle even to those seniors who are in good health, often due to health or life events that get in the way of keeping up with a regular fitness routine. Fortunately, assisted living care provides activities on a daily basis to keep you moving and staying fit.
Ways to Stay Active as a Senior
Your assisted living community will have certain activities and classes available to you already. There are things you can do on your own as well even if you need care assistance. For instance, you can sit in a sturdy chair and lift your feet or arms repeatedly a few times in a row.
Other activities you can try with or without assistance include:
Lifting
You can use resistance bands or light weights to perform lifting exercises which helps you maintain mobility, improve your balance and fight muscle atrophy. You can substitute weights for a water bottle or a canned good for simple lifting exercises you can do while sitting down and watching TV.
Stretching
Stretching can help relieve any pain you have and make moving easier. When you are a limber senior, you will find it easier to do everyday tasks like cleaning, cooking or laundry and you experience fewer injuries.
Walking
Walking tends to be the leading choice for exercise for most seniors since you can do it anywhere. Inviting a friend, family member or even a care provider can help you to stick to your walking routine. They will also keep you company, engage in conversation and making your walking experience more enjoyable.
Swimming
Water aerobics is a great way to stay fit. Water supports your body so when you are exercising in the water it's much gentler on your joints. Check with your assisted living home to see if they have any classes available where you can take up a group class and perform pool exercises with others.
Being a senior who needs assistance shouldn't hold you back from getting in shape. There are always gentle exercises you can do to stay limber. Just remember to talk with your doctor before you start up any new form of fitness.
Eskaton helps you conveniently and simply make staying active a priority at all of our assisted living communities. To arrange a tour or to learn more, contact an Eskaton Community today!