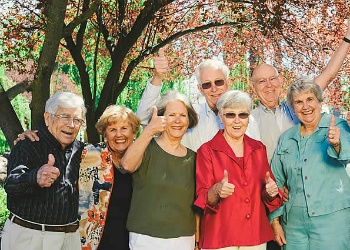 Summertime means warmer weather and the chance to enjoy the great outdoors. There are many fun activities that healthy independent seniors can pursue that aren't necessarily labeled for seniors. To fully appreciate these activities, you should ensure they match your level of health. As long as you're physically fit enough to participate, you'll find a wonderful world of summertime adventures waiting for you.
Summertime Activities for Seniors to Consider
Take a Sightseeing Field Trip
When's the last time you went sightseeing? Many senior communities host various field trips or you can plan a sightseeing trip of your own either independently or with a group. Activities could include visiting a museum, botanical garden or zoo. Your sightseeing agenda may involve taking in a ball game, car show, outdoor concert or other event. You could add in some shopping for unique or special items at flea markets, craft shows or art exhibits. You might also stop by the beach to collect seashells, take a wine tour or pack a picnic for the park while on your sightseeing tour.
Go on a "Treasure" Hunt
Maybe you'd like to try your skills as a treasure hunter. You could opt to search for real treasure using a metal detector or, if you like solving puzzles or scavenger hunts, you may want to try new hobbies like letterboxing or geocaching. Both of these hobbies are similar in nature with coordinates or clues provided for a location you must find. Once you discover the location you'll find a box with a logbook. In geocaching, you'll sign the book and may find items for trading or tracking purposes. In letterboxing, you'll find a rubber stamp to stamp your personal logbook and you'll need your own, unique rubber stamp to sign the logbook inside the box. Either type of box may include clues for finding another box.
Explore Nature
Summertime brings nature to life. There are tons of nature-related activities to explore depending on your particular tastes. You can go bird watching, or if you live near the ocean, sea life watching. You can opt to take a nature walk or if you're up to it, go hiking. You don't have to hike 10 miles; just do what feels comfortable. You might also make it an overnight adventure and go camping by pitching a tent or renting an RV, if you don't feel comfortable sleeping outdoors.
Be Joyful
It's important to laugh and have fun, no matter what your age. Independent living activities that allow you to stay active both physically and socially are rejuvenating and give life purpose. Use this summer to explore, learn new things or pick up old hobbies you used to love. Embrace socializing to meet and interact with new friends or reconnect with old friends you've lost touch with over the years. Sing, dance, play and compete in events that provide much needed exercise in a fun environment. Spend quality time outdoors, soaking up sunshine and essential Vitamin D, smelling the fresh air and enjoying all that nature provides.