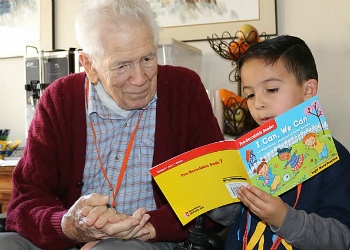 Think about your friends. Are the majority around the same age as you?
That's pretty typical. After all, think about how you met those friends. Are they college buddies? Are they parents of your kids' playmates? Are they co-workers?
While these groups of friends often come together naturally based on where we are in life, forming friendships outside those groups — with people of another generation — may take a little more thought and effort. However, it's worth it as research has shown some major benefits in intergenerational relationships.
Benefits of Intergenerational Friendships
It's fun.
Ask anyone who has cultivated an intergenerational friendship: they're just like regular friendships. Fun. Buddies with similar interests, senses of humor, and ideas of fun are invaluable. They bring light to your life. That's the beauty of intergenerational relationships: you remember that anyone can do that.
New perspectives.
By now, you know about where you sit on most issues. You've formed opinions and stuck to them. But intergenerational friendships challenge that; a new perspective from someone in a different point in their life will help you form a more full understanding of people, places, and issues. It really opens the mind to hear new perspectives from friends you trust.
Change of pace.
Sometimes, it's nice to take a quick breather from your current life, to reminisce of how things used to be or to get a glimpse of the future. Think of how you felt when you first moved in at college. Remember that feeling when you sit down to dinner with a friend who is making his way through his first year. Talking with a new professional about his future career plans or where the industry is headed can be exciting for you, even in retirement. Share your life experiences too -- you can both learn more from one another and get a change of pace in your day.
Here are 3 tips to help you find and form intergenerational relationships:
Step outside your comfort zone.
Try something new. If you push yourself to go somewhere that you might not have otherwise gone, you will have access to all types of new people. If you head out on the town and join a community club, you're likely to find others of all ages who share the same passions.
Look into intergenerational programs.
Know that many senior living communities already offer intergenerational opportunities. Ask around to see if there is a volunteer tutoring program at a local school or a "buddy system" like Eskaton's Kids Connection. Many of these programs already have long histories of success in building intergenerational friendships.
Don't shy away from differences.
There will be differences. Embrace them. The things that make you two different are the things that make you special. If you learn to love the differences, your bond will be unbreakable.
Intergenerational friendships can offer a lot of opportunities for love, fun, and growth. When people who complement each other work together, the relationship built between them is a beautiful thing. Eskaton's Kids Connection has helped create friendships between students at local elementary schools and residents of Eskaton Villages. The bonds they've formed and the love they share is incredible — it's only topped by the fun that they have.