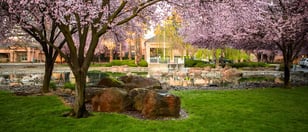 Continuing Care Retirement Communities, or CCRCs, allow aging adults the ability to choose one retirement living community for all stages of retirement living. This means you will only need to choose one retirement community rather than moving to a new community each time your need for assistance or care increases. This is a huge benefit filled with other advantages worth considering.
These are a few of the most important benefits to many people making choices about their retirement communities.
Benefits to Consider when Choosing a Retirement Community
Worry Free Independent Living
People who live in retirement communities don't have to sweat the details, like painting or staining their deck every summer, cleaning out the gutters each fall, or, in some cases, doing laundry and routine cleaning.
For building and grounds maintenance, this is included in most retirement communities. Some offer laundry services while some include housekeeping services once or twice a week (others charge an additional fee for these services). Some communities even offer meal plans that provide one to three meals per day for residents.
Continuity in Continuing Care
Rather than facing the need to move to a new facility and get to know new people when your need for care increases, you have the amazing ability to stay within one community.
You may need to move to a different floor or building, where your care can be properly monitored and provided, but you won't need to choose a new facility and leave your friends and possibly your spouse behind. Couples, especially, find the easy access to partners who may be located in a different wing of the facility for advanced levels of care to be comforting.
Access to Skilled Care Providers at Every Stage
Whether you need full time care around the clock, daily assistance and medical check-ins, or you need occasional assistance for specific tasks, you have access to all these things on one campus. This means that even if you do not need daily assistance you still have access to qualified care providers at all hours of the day and night should the need arise.
All residents of a CCRC have access to entertainment and fitness activities designed to spark their interests and abilities at all stages of care. Whether the need is for memory care or simply to stay active, there are specialized activities available as well. CCRCs are excellent choices for those seeking consistency in their retirement routines and lifestyle.
Eskaton Village Carmichael is a continuing care retirement community. It is set on 37 beautifully landscaped acres near Sacramento. Contact us for a tour and experience all that Eskaton Village Carmichael has to offer first hand. Call (888)-684-6554 to schedule a tour.