New Jersey born Chuck Naegeli has a fascinating life story. As a young man, he was a Boy Scout, Eagle Scout and in the ROTC. Chuck was good with his hands and built lots of things. "I was meant to be associated with aeronautics," he said. After graduating Georgia Tech with a degree in aeronautical engineering, he was assigned at Wright Field in Dayton, Ohio, during WWII. "The Air Corps got priority," said Chuck. He became the project leader modifying airplanes for the US Army Air Corps. For four years he experimented on military planes, naming an F-5D 'Bobbie', the nickname he called his wife. 'Bobbie' only flew once that he knew of. The one-of-a-kind bullet-proof windshield cracked when the canopy came loose during flight. Planes like this ended up in the junkyard of Patterson Field, or the bone yard in Tucson, Arizona, said Chuck.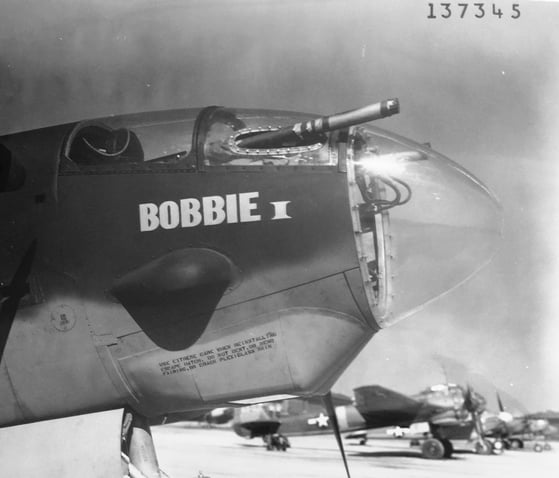 At Wright Field, Chuck remembers pulling up in his old car and being chastised by his peers. "The guys called my 1931 Chevrolet convertible Phaeton a covered wagon," explained Chuck. "They all had modern 1941 cars."
Norma and Chuck had two children, Charlie and Peggy. The couple was happily married six years when in 1949 Norma lost her battle with cancer, leaving Chuck a single father. Out of necessity, Chuck's young children moved to their grandparents and he was able to spend time with them on the weekends. For a decade, Chuck lived a bachelor's life on Long Island while working as a missile engineer for Grumman. "I was single and had a new car every year," said Chuck. "I went to NYC every other day. I used to eat out and go to the shows. I was having a wild time."
In the late 1950s, Chuck packed his two teenagers in his white '57 Chrysler and drove across the country to take a job as a chief engineer in San Carlos, California. Chuck's career led him to working on submarine missiles and launchers.
One day Chuck had an appointment at a medical center in Palo Alto when he was approached by a woman who invited him to a singles party. "The snazzy, high-class group of 'Spinsters' would find single men and invite them to parties," said Chuck. Chuck met two women: One in an orange dress and one in a black dress. "I went out with each gal," he said smiling. "The one in the black dress would later become my wife."
Kay, an RN, became his wife for 55 years. They had a daughter, Kris, together. They traveled the world together. "The day after we retired in 1985, we hit the road. We rented a flat in London for three months, on York Street," Chuck reminisced.
The couple decided "we weren't going to live with our kids." They looked at several Continuing Care Retirement Communities (CCRC) and finally settled on Eskaton Village Carmichael in 1992. "At the time, it was nothing more than a couple of oak trees. We liked what we saw."
Chuck pictured with his wife Kay at Eskaton Village Carmichael.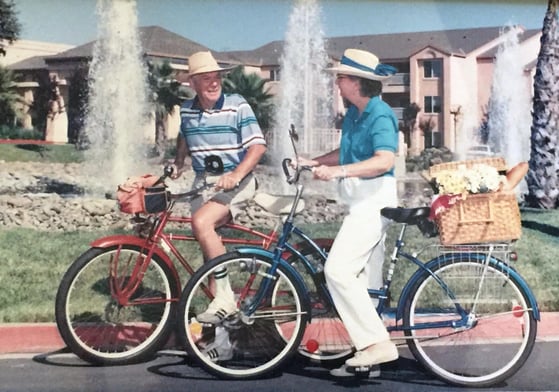 Twenty-five years later, and a widower for the second time, Chuck's says in a positive voice, "We did the right thing when we moved here."
"I've been here 25 years and I'm in really good shape. The staff has taken good care of me." Chuck is so grateful, for his 25th anniversary he celebrated by hosting a small party for the staff.
Chuck pictured with Juan and Anita.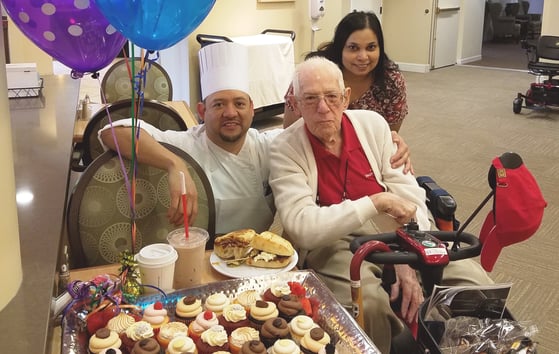 Chuck's life is an unforgettable one. "I am very proud of my family," he said with conviction. "We are still a great family."