With Thanksgiving and Christmas right around the corner, there will be plenty of dishes to be washed. Read the following to make sure you aren't putting the wrong things in the dishwasher.
Take-Out Containers
Sure, they are great for taking lunches to work, but when it comes to slipping them in the dishwasher, beware. If an item is not clearly labeled as 'dishwasher safe' by the manufacturer it means it is not safe. The heat from the water or during the drying period can melt or change the chemical composition of the container, making it unsafe to place food in or reuse.
Wooden Utensils and Cutting Boards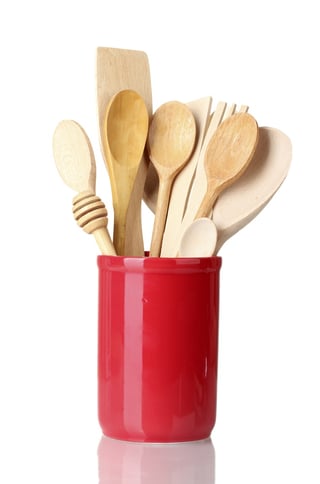 Due to the high-heat temperatures of your dishwasher, wood is also at risk of altering its consistency. Assuming you're not a fan of splinters, it's best to wash by hand. The hot water can dissolve or alter wooden-made stuff and leave openings for bacteria to grow. It is best to wash them in warm soapy water. (Tip: to keep them looking like new – oil them once a month).
Teflon
Recent research has suggested that Teflon is carcinogenic, particularly when it begins to break down. Although they say is safe to wash it a few times over several years, if you frequently are washing Teflon it will likely hasten the breakdown process, coating other dishes and utensils with undesirable chemicals.
Family Heirlooms
If there is a bowl, vase, or any dish that you love and have had for years, don't even think about tossing it in the dishwasher. Sure it may survive this time, but you will regret the one time it clinks with a non-important item and breaks in pieces. The best bet is to hand wash your precious dishware.
Crystal Glass and Dishware
You might be scared to clean your crystal glasses by hand, but the dishwasher could do even more damage. Over time the high temperature in the dishwashing machine, it's cleaning, and the close proximity to other items might cause your crystal to crack, chip, or take away the shine. (Tip: To clean your crystal properly, warm up two cups of vinegar and pour it into a large container. Place glasses or bowls into the vinegar and soak for 3-5 minutes. Then rinse with clear water and dry with lint-free towel for a perfect shine).
Copper Pans
The whole reason you probably bought copper pants is because of their look, which you obviously don't want to alter. Tossing those puppies in the dishwasher, however, will change their color to something a little rustier. Even if you use them daily, wash copper by hand if you want them to stay shiny.
Cheese Grater
Don't be surprised if you place this little trinket in the dishwasher and it looks almost untouched by the time you take it out. The dishwasher doesn't have the capability to pick up all of the cheese curdles hidden deep inside. You are better off taking care of this on your own.
Fancy Chef-Quality Knives
They do all the dirty work when it come to slicing your food – naturally you don't feel like washing them in the chance of getting nicked by them mid-scrub, but your dishwasher won't do them good either. Although some dishwashers have a special knife rack, the dishwasher cycles and the abrasive detergents will still dull the sharp blades. You're better off hand-washing and drying them carefully with a towel instead of letting them air dry.