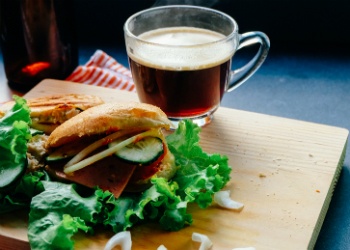 Have you started to default to pre-made frozen meals, leftovers or maybe even just grabbing some crackers from the cupboard?
If cooking is becoming a chore for you, you're not alone. Many aging adults find themselves struggling to complete the many steps it takes to prepare a fully home-cooked meal. From standing for long periods of time to enduring the heat of the kitchen, cooking can take a lot of work.
Add to this that is it often difficult to prepare a nutritious meal for just one or two people, as ingredients and recipes are often set for larger servings.
While frozen meals and fast food may seem like a quick or easy fix, most are packed with calories, salt, sugar, and artificial preservatives. And that's not even mentioning a lack of new options and flavor.
So how do you ensure you're getting healthy, nutritious meals every day?
Consider hiring a personal chef for your home.
One of the best things that you can do is to hire a personal chef. Your chef will prepare your meals for you, meaning you can leave the pre-meal prep behind. You can order whatever kind of food that you want, and your chef will learn what types of food you do and do not like. It's a lot like visiting a restaurant every night, but with healthier options.
This is likely an expensive option that may not fit into your budget, but it is a great option for those who are willing to shell out some extra money for quality food without the cooking.
Take a senior cooking class.
If you haven't lost your love for cooking but maybe need a refresher or two, try out a senior cooking class. You can learn a few easy-to-make recipes with appropriate serving sizes. You won't have to worry about boatloads of leftovers anymore because you'll be cooking the right amount of food.
Have meals/ingredients delivered to your door.
Do you still enjoy cooking but can't always make a trip to the store? Consider options like Blue Apron. They will deliver fresh ingredients and original recipes directly to your door. Or, enjoy full healthy meals from a delivery restaurant like Fit Eats. Enjoy daily nutritious meals, minus the hassle, with these and other local options.
Look into an independent living community that provides meals.
For some, a loss of cooking is no love lost. If this sounds like you, consider looking into an independent living community that provides meals. Many communities offer a chef on staff who will accept suggestions or requests for your favorite meals. The healthy options are offered in various dining styles such as restaurant and bistro style. You can check out menus and inquire more as your tour independent living communities. Many include dining in the price of the community, which makes it an affordable option.