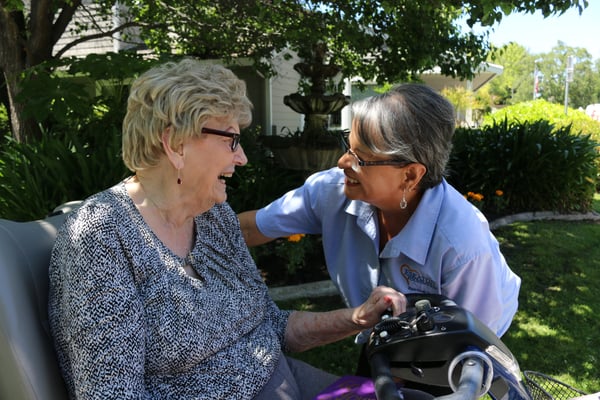 Searching for an assisted living community for your parent can feel like an overwhelming task. How do you know which place is the best choice? If you have never gone through this experience before then how can you figure out what to look for amongst all the options? As with any important decision in life you can get bogged down in the minutia of choosing an assisted living community. In order to keep yourself from getting overwhelmed with the options and feeling lost in the details you should start with the big picture. Ultimately, the detail that matters the most is the well-being of your parent. There are three questions you can ask about the level of care at any assisted living community you are considering to ensure that your parent is getting the right level of care.
1. Will my parent be safe?
Safety is a major factor to consider as you help your parent make plans for the future. There are a number of unique safety risks that seniors face as they age. Changes in mobility, cognition, and health can decrease your parent's ability to safely complete activities of daily living. One of the biggest safety concerns for aging adults is the risk of falling. A fall can result in an injury, such as a broken hip, and lead to serious complications. Impaired cognition can cause safety concerns especially in the case of dementia. People with dementia have been known to wander off and get lost or even get in a car and try to drive. Scenarios like this can be extremely dangerous for your parent if they do not have the cognitive ability to find their way back home. Failing health can lead to dangerous situations for seniors who are alone. Events like heart attacks and strokes must be dealt with quickly if there is going to be hope for recovery. If your parent is in assisted living, they will be surrounded by caregivers and medical professionals should an event like that occur. Ask the staff at any assisted living community you're considering regarding the safeguards they've put in place to keep your parent secure.
2. Can you meet my parent's needs?
It is also important to ask about your parent's particular needs as you consider assisted living. Does your parent need help with all activities of daily living? Are they independent in some areas but need help in others? Is your parent a fall risk? If you have concerns about a certain aspect of your parent's life, then check with the assisted living community and make sure they accept residents with your parent's needs. The reality is that most assisted living facilities can handle a wide range of needs.
3. Will my parent have a high quality of life?
Clearly it is essential that your parent is safe and well cared for in assisted living. But it is also important that they have a high quality of life. Quality of life can be impacted by a variety of elements including social interaction, community involvement, and physical activity. Look for an assisted living that offers plenty of ways for your parent to get involved. This element can make a big difference in how well and quickly your parent adjusts to the new living arrangement.
Getting the answers to these three big questions can go a long way toward helping you be comfortable with your choice of assisted living community. Once you are satisfied that your parent will be safe, have their needs met, and have the opportunity to develop a high quality of life you can rest assured in your decision.
or for more information on the topic of assisted living click here: