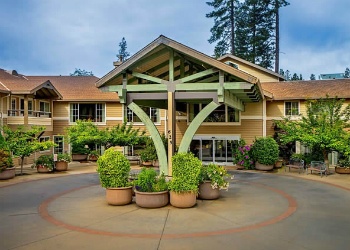 Flashy amenities like theater rooms, rooftop terraces, and wine bars demonstrate dramatically how senior independent living has evolved. However, many residents spend a lot of time inside their own units; therefore, design features should also be considered for not just public spaces, but for private ones too.
Four top features of independent living homes for seniors are:
Split Bedrooms
Split bedrooms are an attractive feature since you are likely looking for flexibility in how you want to use your den space. You might want to use it as exercise space, a TV room, reading room, an office, or another bedroom. If you have a desire to 'age in place', you can make it into another bedroom for a live-in home health aide.
In some cases, older adults can no longer sleep with their loved ones because of divergent sleeping patterns or snoring and therefore can no longer share a bedroom. Split bedrooms can help with this too.
Pantries
Expansive pantries are another amenity since you can use them for different things. Some independent living homes can have a shallower pantry where you don't have to reach as far back to get canned goods or other food items. Pantries that have built-in shelving for spices and pull-out drawers are also popular in today's independent living home.
Built-Ins
Back in earlier days, it was thought that older adults would prefer to move in their own furniture to somehow recreate their long-time homes in the new units. Times have evolved, and a design that includes built-ins is now becoming a trend. Things like built-in shelving, bookcases, and desks are becoming standard.
Large Bathrooms
You no longer have to worry about shared bathrooms and semi-private rooms like in traditional nursing homes. You most likely don't want to share this vulnerable time with other residents. Independent living homes now have designs that do away with this. Units now have larger bathrooms which are perfect if your goal is to age in place. Your home health aide will have more room to help you in your time of need and you have more privacy. Some bathrooms are designed with American with Disabilities (ADA) guidelines as well.
Affordable luxury senior independent homes are now exploding with amenities where you can even pursue your hobbies. There are arts and crafts rooms, wood shops, spas and more.
Eskaton in the greater Sacramento area is the largest community-based non-profit organization serving seniors. We invite you to take a tour of our independent living homes yourself to see how we are transforming the aging experience.