Darlene Cullivan is a guest blogger and the community engagement manager at Eskaton Support Center.
What started as a way to provide musical experiences became so much more -- a chance to build connections that transcend physical distance and unify people from all ages and life experiences under a shared love for music.
Virtual sing-along hosted on Zoom videoconferencing software. Volunteers include Angela Chau, Harry Sha, Keaton Ollech, and Dan Guo
Before COVID-19, residents at Eskaton Village Carmichael gathered weekly around a grand piano to sing together. Unfortunately, all that changed with the pandemic. Measures were put in place to prevent the spread of coronavirus, and the cherished sing-alongs had to be suspended. Knowing the residents looked forward to these weekly gatherings, Eskaton's life enrichment team began thinking creatively about how to replicate the musical experience virtually.
Eskaton connected with Virtual Park Bench founder Dan Guo.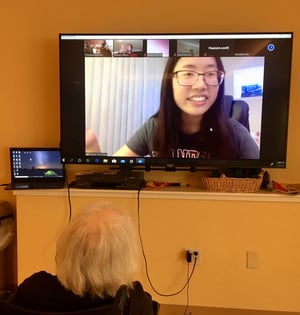 Virtual Park Bench is a Stanford University volunteer initiative providing virtual social engagement to older adults during the pandemic. This includes hosting 1-on-1 weekly video calls between Stanford volunteers and community residents, as well as older adults participating in Eskaton's Telephone Reassurance program. "Eskaton was unequivocally aligned on the power of sing-alongs and the need to promote not just physical, but also social and mental wellbeing during these unprecedented times. The essence of sing-alongs can be distilled into two elements: residents seeing and hearing each other singing, and reminiscing collectively," says Dan, "and we made sure both elements were present in our virtual sing-alongs."
Virtual Park Bench collaborated with Stanford student group Side by Side to bring this initiative to life. During the school year, Side by Side coordinates music concerts and sing-alongs at care communities near the Stanford campus. They were excited to share their musical talents in a first-of-its-kind virtual sing-along.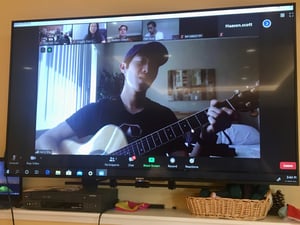 Stanford volunteers and roughly fifteen Eskaton residents sang together virtually, including classics such as "Can't Help Falling in Love" and "Moon River." The residents hailed from diverse communities – including Eskaton Village Carmichael, The Reutlinger Community, and others. "I saw many of the residents' moods change in a positive way after the sing-along," reported Rachel, Reutlinger's life enrichment assistant. Thankful for the social aspect of the event, Eskaton resident Ron declared, "I love to sing . . . it brings people together."
Virtual sing-alongs highlight layers of connection fostered by music. Student volunteers and residents enjoy establishing intergenerational bonds with one another. Some residents were able to connect with friends and acquaintances within their own community whom they had not seen since the pandemic started. On an even larger scale, residents from different Eskaton communities now have the opportunity to meet one another. We look forward to continuing this new tradition of bringing residents and volunteers together to create and appreciate music in the (virtual) company of others.