Did you know that the average person spends 90% of their day indoors? Light is by far the most important way to maintain the body's daily rhythm. Our bodies need exposure to bright light in the daytime and darkness at night. Indoor lighting becomes even more important as you age because it can impact your overall health, mood and mobility.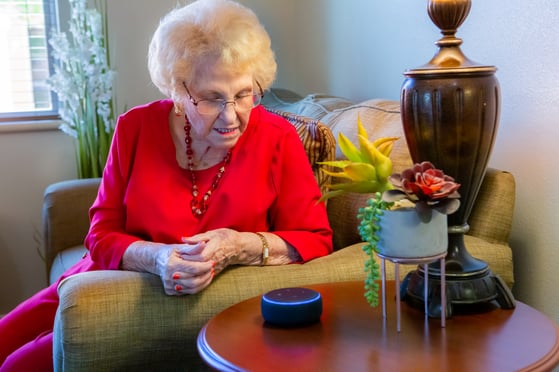 Adults over 65 years old need more light but are also much more sensitive to glare, so lighting must be plentiful but also well-shielded. Adjusting the lighting in your home can help improve your vision, mobility and navigation. Take these tips to reduce your risk of environmental related falls due to poor lighting.
Follow these tips to improve your lighting:
Let the sunshine in: Not only is sunshine good for your circadian rhythm, it is a great source of ambient light and will brighten-up the entire space.
Get smart: Upgrade your bulbs to work with a voice assistant (i.e. Amazon Alexa). Control your lights with your voice to ensure you always have light when you need it.
Paint refresh: Dark walls absorb light so brighten-up your walls and ceiling with an off-white shade that has a light reflective value (LRV). We recommend 70-80 for walls and 80- 90 for ceilings.
Avoid Recessed: Recessed lights cause shadows and make activity and navigating more difficult by obscuring details.
Use dimmers: Lighting dimmers provide you with the control over the amount of light you want at any given time.
Reduce glare: Remember, as you increase lighting, you increase the risk of glare. Glare is dangerous for older eyes because when light scatters, it can obscure objects.
Practicing these six tips will help improve your body's natural circadian rhythm and will likely improve mood, mobility and health.