Read about one adult daughter's reaction as her parents decide to move to a senior living community.
By Darlene Cullivan
While the news of my parents' decision to move from the spacious house in which I was raised fell upon my ears, I felt as though a significant part of my heritage was somehow being removed from under my feet. My mother continued to calmly explain how the benefit of downsizing far outweighed the value of remaining at their house of 40 years. The thought of moving to a retirement community had been entertained by my parents for two years; but as they visited different communities, they never seemed to get past the fact that these communities accommodated "older adults."
They were not quite ready to accept that those "older adults" were actually their peers. However, these types of environments became more appealing as Mom and Dad sensed Dad was experiencing subtle cognitive changes. Not only would my sister and I have to acknowledge that Mom and Dad desired this change, we would have to accept that this change was timely, needed, and, therefore, good. Consequently, "downsizing" had to be interpreted as positive and up-building.
However, adopting this positive interpretation was challenging as it seemed to threaten my parent's legacy. My parents' home represented a legacy that reached far beyond the material possessions. Their legacy was one of warm hospitality that outreached and served a vast range of people. Friendships amidst fun and laughter were cultivated in this openhearted place to gather.
Another demonstration of my parent's hospitality was highlighted around the dining table. Throughout the years this table was adorned with a variety of interesting guests. For me, sitting at this table with such a unique array of guests revealed the depth and consistency of care my parents took to serve others without partiality or pretense. Every individual enjoyed the same lingering and beautiful aroma of hospitality present there.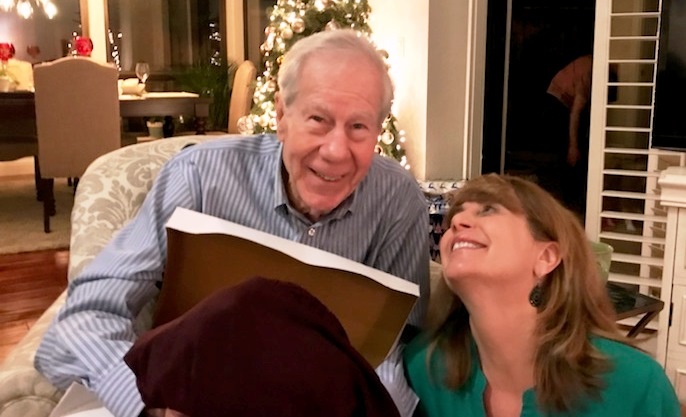 So along with downsizing, the thought of no longer having this table present at family get-togethers, especially during the holidays was disconcerting. In fact, the thought of uprooting our family heritage from the house, yard, and neighborhood seemed inconceivable and stirred me to tearful sobs. It was then that Mom's sensible assurance redirected me. She said, "Darlene, we're still the same, yet our needs are changing." It was then that "downsizing" was redefined.
Now after five years of experiencing life at Eskaton Village Carmichael, it is clear that my parents made the right decision. As they journey through Dad's Alzheimer's and dementia diagnosis, we are more thankful than ever for Eskaton's supportive environment. At the onset of Dad's cognitive change, "downsizing" was not only advantageous, but it also led to the realization that my parent's values will remain indelibly etched into our heritage. They indeed have been built up!