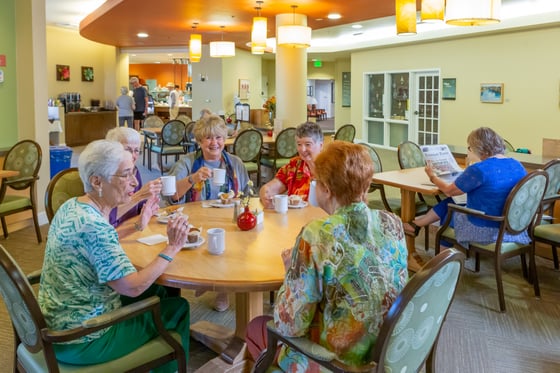 As you start to explore the world of senior living you will find that there are many different options. There are several types of communities to choose from based on the needs of you or your aging parent. Within each category of community there are also choices to make based on personal preferences. Before you can narrow down which community is best it is helpful to understand what differentiates the different levels of support. Two common options include assisted living and memory care. Finding an option that meets the individual needs of you or your loved one is the most important part.
Memory Care
Memory care neighborhoods are designed to meet the individual needs of people living with Alzheimer's disease and other forms of dementia. The goal of this supportive environment is to nurture well-being and support autonomy. These communities offer programming that supports growth and socialization. Programs range from exercise, art, gardening and educational classes. Special attention is given to ensure each person feels safe and comfortable in their new home. Familiar objects, furniture and photos are encouraged in apartments to ensure the environment becomes home. Associates receive additional education to better understand the needs and changes a person may experience. Team members learn creative approaches and strategies that help them to connect and emphasize with the changes a person may be experiencing. Care associates will also help with activities of daily living (ADLs) as needed and use empowerment strategies to build upon the person's strengths.These supportive environments ensure that residents feel secure and supportive.
Assisted Living
Assisted living is available to older adults who may be experiencing some physical changes. Assisted living is a great option for older adults who need some support with their activities of daily living (ADLs) and/or who would benefit from additional social connections. If keeping up with the demands of maintaining a home and caring for oneself is becoming tiresome then assisted living may be a great option. Some residents living in assisted living need occasional assistance with medication management and minimal basic care services while others require extensive assistance in several areas. You can learn more about the levels of care available in assisted living here.
Main difference
Each person is unique and determining the right level of support can be challenging. If you are not sure what environment is best for you or your loved one visit both options and determine which environment best supports the individual needs of the person. Many people choose a supportive memory care environment because the person who is living with cognitive changes and their family members prefer to have team members that are more knowledgeable about dementia and trained to provide individualized support.
You do not have to decide between assisted living and memory care on your own. You can get help evaluating the needs of your parent from the experts at Eskaton. We have a variety of communities and each one is thoughtfully designed with the needs of the residents in mind, or for more information on the topic of assisted living click here: