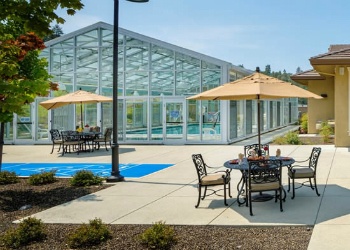 So you're shopping for the perfect independent living community. You've done your research online, and you've narrowed it down to a couple of communities that you really like. Now comes the fun part: touring the campus.
Touring an independent living community is great way to figure out if this place is your potential new home or not. It gives you the opportunity to see in action all the services and amenities that you've read about, explore the area, meet the staff and chat with current residents.
You can do all the research in the world, but one of the best ways to truly see the community is to ask its members. While touring, take the time to sit down and chat with a few residents and see what they think.
Here are a few starter questions to ask the independent living residents:
What's your favorite thing about this community?

What is your least favorite thing?

What does a typical day look like?

Where are your favorite places to go? Are they easily accessible?

What kind of social programming is available?

How's the food? Is it consistently good?

Are there opportunities to join committees or clubs?

Do you enjoy the staff?

Are pets allowed?

Do you feel at home here?
These questions are just the beginning. Branch out to include topics that are near and dear to you: if you are an avid gardener, ask about opportunities in the community. You want to be sure that the campus is a good fit for you.
There are no right or wrong answers to these questions. When you ask the other community members about their experiences, really consider whether or not you could see yourself living there. At the end of the day, the most important thing is that you feel comfortable and at home.
If you find a culture where you are comfortable, you will more quickly feel right at home in your new home.