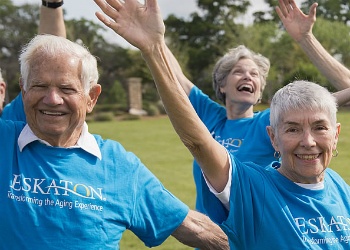 If you are an older adult and want to live somewhere where you have freedom and a large variety of amenities, you might consider apartment living. It can be a daunting task to make the transforming life decision of where you are going to be living during the day and resting your head each night.
Benefits of Apartment Living for Seniors
There is a long list of benefits of living in an apartment versus owning your own home. Some include:
Financial
The financial aspect of renting is a benefit of apartment living. Generally, rent is much cheaper than paying a mortgage. Not only do you have lower monthly payments, but other expenses such as utilities and upkeep are much lower as well because you are living in a smaller space and the owner takes much of the responsibility.
No Repairs
You no longer have to worry when your air-conditioner breaks down, your toilet backs up, or your dishwasher breaks. These repairs are already made (and paid for) by the complex owner or landlord.
Amenities
Apartment living usually comes with specific amenities like gyms, pools, laundry facilities, convenience stores and other features right there on the premises or at the very least, very close to the complex.
Safety
Even though you could invest in a home security system for your home, the overall safety of residents is a top priority in apartment complexes. You have standard apartment complex safety measures in place, as well as close proximity to neighbors, which helps to maintain apartment life safe.
What Tasks You Get to Leave Behind When You Sell Your Home
Out of all the benefits of apartment living, this is a big one. You no longer have to worry about tasks such as:
Fixing a leaking pipe

Maintaining the lawn

Paying property taxes

Selling your home when you move
Transitioning from Homeownership to Apartment Living
To make your transition easier, take inventory of your personal items and place your items into piles to be sold, trashed, or donated. Also, many seniors feel as though they are going to lose their independence when they give up their homes. The truth is, with apartment living, you have so much more freedom to enjoy life, meet new people, and participate in hobbies or other activities you enjoy.
Eskaton Villages (and several Eskaton Lodges) offer independent living with services to enable you to socialize with other residents or enjoy your privacy, whichever is your preference. Learn more about Eskaton features and services.