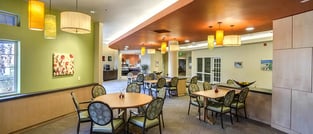 Finding the perfect assisted living community for your senior loved one is an important decision. As you visit different places, you will want to take some things into consideration. The quality of care your parent receives is obviously most important, however, there are other factors that could be important as well. Some are as follows.
Factors to Consider when Looking for an Assisted Living Community
Atmosphere
Does the atmosphere of the community feel clean and fresh? This includes not only the furniture, but the baseboards, corners, and windows. Find out how often your senior loved one will receive housekeeping services in their personal living space. Other things to check for include:
the outward appearance and location
the décor
how the staff dresses
the residents
the greeting you get when you walk in
Get the full details on what types of housekeeping and maintenance your loved one gets and the estimated response times.
Health Care & Medication
If your senior parent has a disorder like Alzheimer's or another cognitive impairment, what type of supervision will they receive? You want an assisted living home that is dedicated to the special care and needs of your parent. This includes their physical and mental needs and the different stimulation and activities they can participate in to thrive emotionally and physically with dignity.
Meals
Of course, nutrition should be another important factor. For most seniors, the dining room experience is usually most important. When you take a tour of the community, find out things like the dining hours, entree choices, and procedures.
Activities
You might want to schedule your visit to the days and times when community activities and events are taking place. You and your parent might even be able to participate. Things to take note of include:
If the events and activities are well attended
How involved the staff is in the activity
If the community calendar of events matches your parent's interests
If there are different types and sizes of activities and events
If there are outings and trips away from the home
You might want to ask about religious services, if that is important to your loved one.
Safety and Security
Security and safety is essential for your loved one and will provide you with peace of mind. You will want to ensure that all the restrooms are accessible with wheelchair ramps and grab bars. How will your loved one be able to contact staff in the event of an emergency? Ask about other safety features that the assisted living home offers.
Bottom line is to trust your instincts. When you are touring the community, ask yourself if you feel comfortable leaving your senior parent there and if they can comfortably live there. Will you feel at ease? Are the staff members friendly and inviting? These are some things you should trust your instinct about before you make your decision.
Here at Eskaton, we invite you to tour our communities. Learn more about Eskaton Lodges and Villages that offer assisted living and find one near you - then contact us to set up a tour and explore all that our residential communities have to offer.