by Gae Ruddell, Activiy Coordinator, Independent Living
You're always invited to join us for
BBQ Lunches Poolside (weather permitting)
Thursdays, until it gets too cold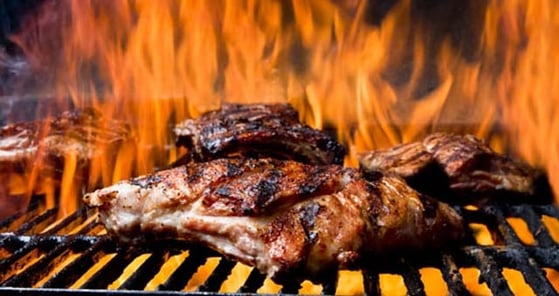 11:30 am- 12:30 pm. Your lunch will be hosted by our Marketing Department
Relax in the shade of a beach umbrella as you delight in a BBQ lunch, prepared by our award-winning chefs, along side our glistening pool. Games are played at each table, with prizes for the winners. After lunch, you're welcome to stick around for a game of Bocce on one of the nearby courts.
Outings in October
Apple Hill is a favorite trip, when we head into the hills for crisp apples, apple pie, apple fritters, apple donuts, and . . . well, you get the picture. If we only cruise through the green trees and ferns, most of us would be happy enough. It's so beautiful up on the hill as colors turn from summer to autumn.
Lunch Bunch is going to Smokey Oak Tavern in Fair Oaks. It's our first time there, but we hear good things. Dinner on the Town takes us to Hawks, and we're sure to be happy with that evening, an Eskaton favorite.
Something new for us: we're touring the mosque on College Oak, after hearing a speaker from SALAM do a presentation. We enjoy new arenas and ideas.
The first performance of the Sacramento Theatre Company season will be coming up soon. A bus-full of residents buy season tickets each year and are always delighted with the quality of talent and production of these midday performances. We've been seeing these local shows for 24 years!
Entertainment this month includes "Encore" on Friday, October 14, and "Riverbend" on Friday, October 21. Oktoberfest will be celebrated on the 28 with a special dinner, followed by German music.
Our Marketing team would be pleased to host any of these events for you. 974-2000
Follow us though a scary and delightful October, which includes our Craft Fair and Halloween hijinks.
Watch this site to keep updated on where we're going, what we're doing, and how you can join the fun! You are invited to all the events, but space is very limited, so to attend we ask you to RSVP through our Marketing Department at 974-2000. We hope to see you soon!