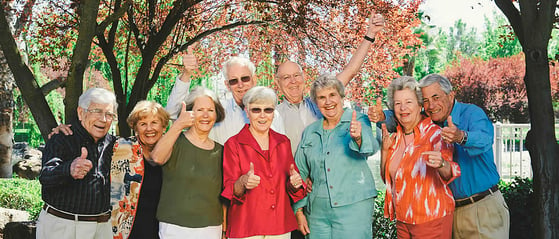 The senior living industry is no longer the retirement home you may remember from years ago. Huge advancements have been made in recent years, giving seniors today more choices than ever before.
With the number of Americans age 65 and over expected to double to 80 million in the next three decades, the senior living industry has taken this opportunity to open new doors.
A New Way to Retire - Remaining Independent
You can choose a home, cottage or apartment within a senior living community, retaining your independence and privacy while also gaining the many services and amenities that the community offers.
Are you hesitating because you are afraid to lose what your current home may represent – your choices, your control, your independence? If so, ask yourself: is your current living arrangement allowing you to fully retire, or are the walls around you holding you back?
The truth is, many retirees who live at home are likely to become dependent on others. Will you, or are you already, paying someone else to clean out your gutters? Who fixes your leaky roof? Who will make decisions about your future medical care?
A part of living your best senior life and remaining independent may mean taking steps now to establish the lifestyle and care you want. Take time to tour a few senior living communities to see what you may be missing.
Benefits of an Independent Senior Living Community
Low maintenance – the community takes care of your home maintenance, yard work and even housekeeping, giving you more time for the things you enjoy.
Dining options – from snack bars to complete meals, you no longer have to cook, if you so choose.
Social interaction – your new neighbors are people just like you. You'll also meet new friends at the many social, recreational, educational and cultural activities provided by the community.
Wellness programs – many independent living communities include fitness centers, pools and a calendar full of activities. Retirees today are taking yoga and qigong, or they may be walking their dog along a scenic trail within the community.
Transportation – many communities offer transportation for physician visits, shopping and local attractions.
Security – you gain peace of mind knowing your home is in a secure community with assistance on site. Head out on your next big trip with no worries about the house.
Safety – homes are designed with safety in mind, such as eliminating staircases, including handrails and may even include a medical alert system, if ever needed.
And the biggest benefit of today's senior living communities – choices. Whether spending time in the community art studio or woodshop, gardening, playing a few holes on the golf course, dining in the bistro or cooking at home, you pick how to spend your day. Your only problem may be too many choices (and that's not a bad problem to have!)
Looking for an active, healthy lifestyle amongst your peers? Check out an Eskaton Independent Living Community. For more information or to schedule a tour of one of our Eskaton communities, contact us at 888-684-6554.