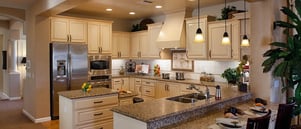 One of the things many homeowners fail to consider when exploring new homes is how well the home will age as they age within those homes. The truth of the matter is that your needs change as you age. Older adults often face evolving needs from the spaces they have. Keep these things in mind as you explore homes and think about which homes may be most appropriate for long-term livability.
How Will Your Home Age With You
Do You Have Slip Resistant Flooring?
Slip and fall injuries among older adults can cause more devastating injuries than when you are younger. It goes beyond installing flooring that is slip resistant (particularly in kitchens, entryways, and bathrooms).
It extends to removing tripping risks as well. This includes things like throw rugs, unnecessary furnishing, and even extension cords (or fan cords) stretched across the floor. It also means rooms need to be light and bright so that any potential tripping hazards are easy to see.
Then there are stairs. Does your home have stairs? How will they play into your daily routine as you age? What if you can no longer navigate them as well due to balance issues and/or mobility impairments?
Are Your Hallways and Doors Wide Enough?
Something no one really thinks about until they need it is wide hallways and doorways. These allow paths for adults who need assistance in the form of walkers and other mobility aids. Standard sized hallways, especially those requiring turns, can be quite tricky and narrow doorways can become major barriers. Are your halls and doors wide enough should you find yourself in need of mobility assistance?
How About Your Kitchen?
Kitchens are important rooms within a home. There is a lot of work that goes into preparing meals and maintaining a thriving kitchen. Are your counters low enough to make good workspaces should you need a wheelchair? What about cabinets? Do you need to climb a short ladder or step stool to reach top cabinets? What will happen if you are no longer able to do so?
Other areas of concern, when it comes to having a home age gracefully along with you, include home maintenance – inside and out. As you age, maintenance tasks and seasonal projects that were once simply tedious, can actually become dangerous.
If you are finding that your home isn't a good option for aging gracefully, there are options available worth consideration, including the Northern California-based continuing care community of Eskaton, which features living options from independent living and assisted living to rehabilitation and skilled nursing care. Contact us at (888)-684-6554 to learn more about Eskaton.