Tiffany Paige is a Hummingbird project manager with Sage Eldercare Solutions. Under the direction of Kari Rogenski, The Hummingbird Project is a therapeutic activity program dedicated to improving quality of life for older adults experiencing cognitive and physical change.
How does The Hummingbird Project work, and what are the objectives of the program?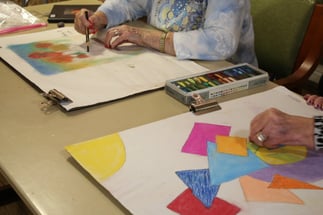 Through one-on-one activity sessions, planned outings, and therapeutic activity kits, The Hummingbird Project pairs therapeutic activity specialists with clients to help them reengage in old passions and explore new interests. Our goal is to find creative ways to help our clients stay in touch with things that bring them joy and purpose, and to create situations where people are able to express and introduce themselves to their communities in new ways. The more engaged our clients are, the larger their desire to stay alive and thrive.
How does participation in The Hummingbird Project support a client's well-being?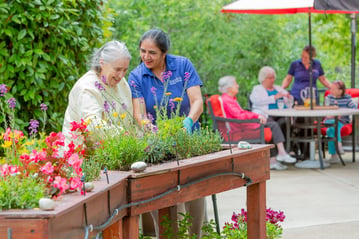 The Hummingbird Project recognizes the strong link between staying connected to meaning, purpose and value, and staying physically and mentally healthy. Using the seven domains of wellness (creative, intellectual, spiritual, environmental, vocational, emotional, and physical) we craft a personalized experience that addresses a few of these domains during each visit. Physical wellness can mean exercise, but what about getting outside and connecting with the actual physical world? Seeing the trees bloom and feeling the wind on your skin and enjoying a snack, really savoring the juiciness of the grapes and the flavor of the strawberries. That all touches physical quality of life, but spills over into emotional and spiritual domains of wellness, as well.
In your opinion, what are the key ingredients for a brain-healthy lifestyle?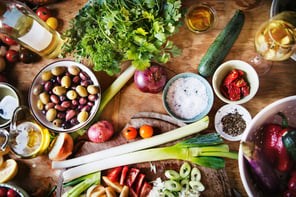 Being physically active, eating healthy and experiencing joy are essential. Movement literally changes our physical and mental state in a positive way, and studies show healthy eating is one of the best preventative measures for cognitive decline. Studies also indicate a significant correlation between brain health and happiness, so by alleviating the four A's (aggression, anxiety, apathy, agitation) for an older adult, that person may stay healthier, longer!
To learn more about The Hummingbird Project and how to connect with a therapeutic activity specialist for you or a loved one, visit The Hummingbird Project website or call (916) 760-7305 for more information.
For a list of educational and entertainment resources during social isolation, visit this post.