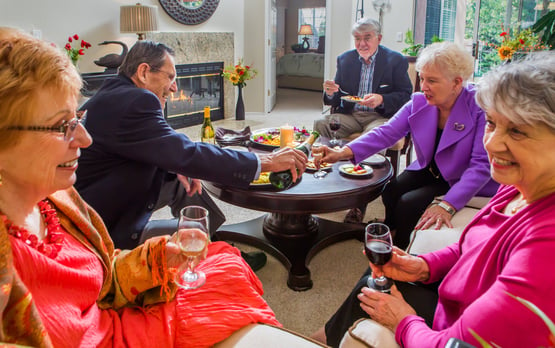 Going into your search for a senior living community with a list of important questions will ensure that you get the answers you need. When you have all of the relevant information you can compare options and make the best choice for you. There are some questions that you should ask yourself: 'What level of care do I need?' and 'What amenities do I want?' When you know the answers to these questions, you can look at what specific communities have to offer. When you have a list of potential communities you can dig a little deeper into each place and ask: 'How much does this community cost?' and 'What makes this community stand out from the others?' Getting the answers to all of these questions will put you in a position to make this important choice for your future.
What level of care do I need?
One of the ways that senior living communities are categorized is by level of care. Examples include independent living communities, assisted living, memory care, skilled nursing, and continuing care retirement communities (CCRC). Identifying the level of care you require can help you narrow the search. If you need help with some activities of daily living (ADLs) such as taking medication, bathing, dressing, etc. then assisted living is likely the best option. If you have medically complex needs then you may require the higher level of care provided at a skilled nursing community. Sometimes it can be difficult to identify exactly how much help you will need. If you find yourself in that situation, your doctor and loved ones may be able to help you find the best fit. In addition, once you start taking tours you can get a recommendation from the staff about whether or not a particular community can meet your needs.
What amenities do I want?
As you start your search, ask yourself about the amenities you want to have in a senior living community. Do you want a community that offers a calendar full of social and cultural activities? Do you want to participate in group fitness classes? What type of food options do you want to have? Do you want a pet-friendly community? You can find senior living communities that offer all of these amenities and more. Thinking about the type of life you want to have can help you come up with the answer to this question.
How much does this community cost?
Once you have a shortlist of potential communities you will start diving deeper into the details of each. At this point you need to start looking into the cost of each potential community. The level of care you need will impact how much the community costs. For example, the average cost of assisted living in California is $4,500 per month while a skilled nursing community can cost twice that. You can get the actual numbers from each community you visit in order to compare the costs.
What makes this community stand out?
When you choose a senior living community you are choosing the place you are going to live for a long time-possibly for the rest of your life. This is not a decision that you should cut corners on. When you find a community that can meet your needs, has the amenities you want, and that you can afford you need to ask one more question: 'What makes this community stand out from the other options?' Senior living communities are highly regulated by the state and you can obtain detailed information about their performance online. You can look up inspection dates, citations, complaints, and reports about any licensed assisted living community on California's Department of Social Services website. You should also take the time to look at industry and community awards that the places on your shortlist may have received.
Make a list of these questions and any others you have as you begin your search for a senior living community. This is a big decision and you deserve to have each one of your questions answered before you make a choice.